Truthwitch
By Susan Dennard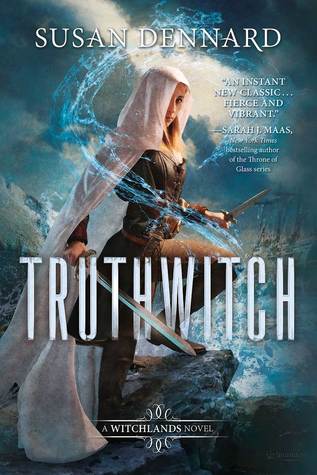 The Witchlands #1
Published January 5, 2016
416 pages
Tor Teen
In a continent on the edge of war, two witches hold its fate in their hands.




Young witches Safiya and Iseult have a habit of finding trouble. After clashing with a powerful Guildmaster and his ruthless Bloodwitch bodyguard, the friends are forced to flee their home.




Safi must avoid capture at all costs as she's a rare Truthwitch, able to discern truth from lies. Many would kill for her magic, so Safi must keep it hidden - lest she be used in the struggle between empires. And Iseult's true powers are hidden even from herself.




In a chance encounter at Court, Safi meets Prince Merik and makes him a reluctant ally. However, his help may not slow down the Bloodwitch now hot on the girls' heels. All Safi and Iseult want is their freedom, but danger lies ahead. With war coming, treaties breaking and a magical contagion sweeping the land, the friends will have to fight emperors and mercenaries alike. For some will stop at nothing to get their hands on a Truthwitch.
I knew about Truthwitch since the beginning of last year. The blogosphere nearly exploded with all of the hype surrounding this book. It seemed like everyone, their mother, their mailman, and their dogs loved this book.
But I am not included in that group.
The truth is that Truthwitch is an alright book, but I did not find anything spectacular about it.
I did not find anything particularly creative about the world. I mean, the land was called the Witchlands and the magic was called witchery. The dull names may have make things easier to pronounce unlike most fantasy books, but it also made the story sound more generic and made up.
The world might have been more impressive if it was actually described and explained. I spent half of the book trying to figure out where the characters actually were and what kind of magic system there was. It seemed as if the world was mish-mashed together. The magic system was not explained well, and I was confused pretty much whenever something magical was happening. Which was quite often considering this is a fantasy novel.
I also found it a tad predictable. Things were set up exactly like I thought they would be. Let's just say that Safiya's two big revelations during the novel were not surprises to me. The major hints were dropped in the beginning, which lessened the surprise and my reaction to what was supposed to be a 'huge reveal.'
The characters in the novel were actually quite amazing. If the rest of the book was as amazing as the characters, then it would be worth twice all of the hype it got. I loved the connection between Safiya and Iseult. It is pretty rare in YA, especially fantasy, to see such a strong friendship between two girls. I loved how they looked out for each other and played to each other's strengths and weaknesses. The character development was also quite impressive. I loved how Safiya started as an ignorant girl who refused to take the responsibility of her power and title, yet ended up as a woman in charge of her own destiny, as well as the fate of her nation.
As much as I liked Safiya and Iseult, I have to say that Merik is my favorite character. He was not your typical prince charming, with his failing kingdom, strict sense of duty, and bouts of uncontrollable anger. He was the perfect mix of perfect and flawed. Instead of being irresistibly charming and handsome like most princes in YA today, he was weatherworn and socially challenged. Which I think made him an even better prince. Also, his perspective was distinct and impressively male. That might seem like a weird thing to say (and I am not denying that) but sometimes I find it hard to differentiate between male and female perspectives. Some authors will write the male perspectives exactly like the female perspectives, which is a pet peeve of mine. Males are very different from females, but that does not always translate in writing. I am glad that Merik sounded different from Safiya and Iseult.
While I liked Safiya's and Merik's characters separately, I was not a fan of the romance. It was completely unnecessary to the plot and distracted from other things that could have been elaborated on, like the history of the world and its magic system. Their attraction seemed more like lust than anything else, which is fine expect for the fact that it was passed off as love. I saw nothing between Merik and Safiya that even hints at love. Sure, they were attracted to each other and the Threads might have said that they were soul mates, but I was never truly convinced that they had substantial feelings for each other.
I just did not find the magic that most people did within this book. While the characters were dynamic and the magic system was interesting, the confusion and the abrupt pacing of the novel counteracted the potential of the novel.
Have you succumbed to the hype yet and read Truthwitch? What do you think about overly hyped books? Have you ever been disappointed with books that everyone else loves? Do you have trouble differentiating between male and female perspectives?