Beyond the Red 
By Ava Jae
Publication Date: March 1, 2016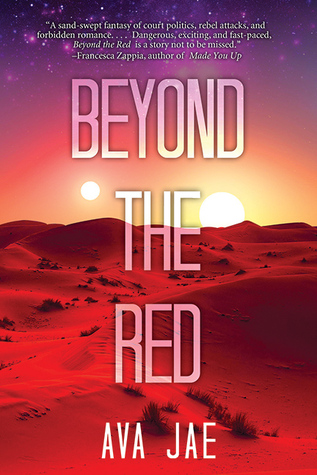 352 pages
This book was provided to me from Edelweiss in exchange for an honest review. I swear on my bookshelf that this has not affected my opinion of the book.
An alien queen, Kora, and a half-breed slave, Eros, have more in common than anyone would want to believe. Both are shunned and hated. Both just want to do what is right for their people. Both of their lives collide when they are forced to work together to save those that they love. 




They live on a planet on the verge of revolution from the plots to kick Kora from the throne in favor of her war-hungry brother and the threats of rebellious humans. The only way to hinder the constant criticism of her rule is to quickly find a mate to share the throne. But finding love in a revolution is harder than Kora thought.




Eros and his human people are constantly being hunted and killed for invading the alien planets. Only a few nomads are left, despite the alien army's efforts to eradicate the human species. Unfortunately, those few survivors might not stay survivors much longer.




The key to keeping their separate people alive is to bring them together, in defiance of the years of hatred and fear between their species.