The Sunday Street Team is a group of bloggers led by the marvelous Nori @ ReadWriteLove28 who aim to bring well-deserved attention to new and upcoming books and their authors.
It seems like spring is (slowly) transitioning into summer and I cannot be more excited! I am so tired of cold, rainy days that spring brings. Fortunately, this month's SST is a wonderful summer-themed novel that will chase the last of the spring blues away.
I am spotlighting Erin L. Schneider and her debut novel, Summer of Sloane.
Summer of Sloane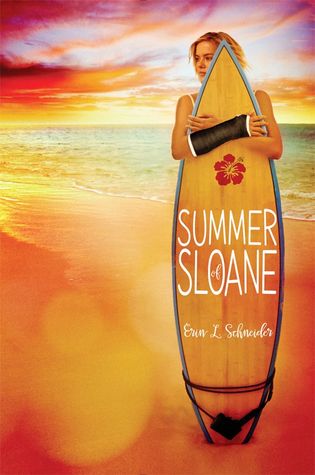 By Erin L. Schneider
Published on May 3, 2016
304 pages
Disney-Hyperion
Warm Hawaiian sun. Lazy beach days. Flirty texts with her boyfriend back in Seattle.




These are the things seventeen-year-old Sloane McIntyre pictured when she imagined the summer she'd be spending at her mom's home in Hawaii with her twin brother, Penn. Instead, after learning an unthinkable secret about her boyfriend, Tyler, and best friend, Mick, all she has is a fractured hand and a completely shattered heart.




Once she arrives in Honolulu, though, Sloane hopes that Hawaii might just be the escape she needs. With beach bonfires, old friends, exotic food, and the wonders of a waterproof cast, there's no reason Sloane shouldn't enjoy her summer. And when she meets Finn McAllister, the handsome son of a hotel magnate who doesn't always play by the rules, she knows he's the perfect distraction from everything that's so wrong back home.




But it turns out a measly ocean isn't nearly enough to stop all the emails, texts, and voicemails from her ex-boyfriend and ex-best friend, desperate to explain away their betrayal. And as her casual connection with Finn grows deeper, Sloane's carefree summer might not be as easy to find as she'd hoped. Weighing years of history with Mick and Tyler against their deception, and the delicate possibility of new love, Sloane must decide when to forgive, and when to live for herself.
---
Erin L. Schneider is native to the Pacific Northwest, attended college in Honolulu - and although Hawaiian - should never be allowed on a surfboard. With more than twenty years in corporate merchandising, she's now a full-time writer living in Seattle with her husband, Neal; their baby boy, Kellan; a rowdy German shepherd named Ronin; and two crazy cats, Ono and Poke. She's a member of both the Pacific Northwest Writers Association and SCBWI, and is also co-founder of the YA Buccaneers.
SUMMER OF SLOANE is her debut novel, out May 3, 2016 from Disney-Hyperion. Visit Erin online at Erin L Schneider or on Twitter: @ErinLSchneider1.
Erin is represented by literary agent Lisa Grubka of Fletcher & Company.
---
Tessa: What was your favorite part about writing Summer of Sloane?
ELS: Being native Hawaiian, I always knew I'd set one of my stories in the Islands and I loved trying to capture just how amazing everything is there -- from the sunsets, to the beaches, to all the great food. And while also incredibly hard, I'd have to say writing the emotional heartbreak Sloane experiences was something that meant a lot to me. Many of us have been there before...that raw, cut-your-heart-out pain that comes with a break-up and I tried really hard to get that just right.
Tessa: Which of your characters can you relate to the most?
ELS: Sloane and I share many similar traits, right down to our feisty personalities. I've been told I have a mean right hook and also like Sloane, I too threw up on the cute boy while playing chicken off the beaches of Waikiki (hey, they say to write what you know, right?). We're also both very stubborn. While writing, I thought about how I would react to my former best friend and boyfriend, had the same scenario happened to me and I know without a doubt, I probably would've never talked to either one of them ever again. I definitely wouldn't have answered any of their texts or emails.
Tessa: What is your favorite book from your childhood?
ELS: I've got two that to this day, I re-read all the time: THE BFG by Roald Dahl, for it's creative genius -- and ISLAND OF THE BLUE DOLPHINS by Scott O'Dell, for painting one of the most beautiful settings I've ever read, even all these decades later.
Tessa: If Summer of Sloane was made into a movie, who would you want on the cast?
ELS: What a great question! I'm gonna have to include images with this one...
When I first started writing Sloane, I came across a photo of a girl that fit who she was in my head -- I found out later it was actually Lauren Conrad:
She's probably not the best choice anymore...so I'd say maybe someone more like Marie Avgeropoulos from The 100 is closer, although her hair color is off:
For Finn, my original inspiration was an unknown model (well, unknown to me as I couldn't ever find any info on him):
But I'm thinking someone like Theo James would make a great fit because, hell-o!:
Tessa: What was it like going through the writing and publishing process for the first time?
ELS: As a debut author, you feel EVERYTHING. Not that I expect that changes much with any subsequent books...but I definitely liken it to feeling like a freshman in high school. While you know a lot of things, so much more is new and very much a learning experience. And there's still that feeling of wanting to look like you've got it all under control, when deep down, you probably don't! And now that we're so close to launch, I find myself toggling back and forth between feeling excited and anxious. I can't wait for launch day to get here...but I'll also be a little sad when that day is finally over!
ELS: Thank you so much for having me, Tessa -- and thank you for all the great questions!
---
Enter to win a signed hardcover of Summer of Sloane and some swag! (US only)
a Rafflecopter giveaway
As always, a huge thanks to Nori @ ReadWriteLove28 for organizing this Sunday Street Team!