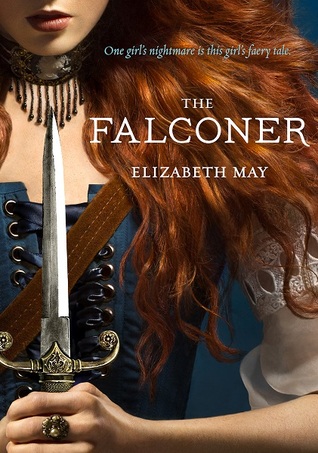 The Falconer
By Elizabeth May
(The Falconer #1)
Released on May 6th, 2014
Young Adult, Fantasy
378 Pages
She's a stunner.

Edinburgh, 1844. Eighteen-year-old Lady Aileana Kameron, the only daughter of the Marquess of Douglas, has everything a girl could dream of: brains, charm, wealth, a title—and drop-dead beauty.


She's a liar.But Aileana only looks the part of an aristocratic young lady. she's leading a double life: She has a rare ability to sense the sìthíchean—the faery race obsessed with slaughtering humans—and, with the aid of a mysterious mentor, has spent the year since her mother died learning how to kill them.
She's a murderer.

Now Aileana is dedicated to slaying the fae before they take innocent lives. With her knack for inventing ingenious tools and weapons—from flying machines to detonators to lightning pistols—ruthless Aileana has one goal: Destroy the faery who destroyed her mother.


She's a Falconer.

The last in a line of female warriors born with a gift for hunting and killing the fae, Aileana is the sole hope of preventing a powerful faery population from massacring all of humanity. Suddenly, her quest is a lot more complicated. She still longs to avenge her mother's murder—but she'll have to save the world first.




The first volume of a trilogy from an exciting new voice in young adult fantasy, this electrifying thriller combines romance and action,

steampunk technology and Scottish lore in a deliciously addictive read.
---
A steampunk story of fae lore set in Scotland sounds spectacular--a promise of action, adventure, and a new twist on the faerie legend. Unfortunately, only half of the synopsis was fulfilled.

Admittedly, there was a fair amount of action. Aileana is a strong, independent female character who, at least for the first half of the novel, doesn't need a man.
Aileana was often the star of the fight, using ingenuity and her inventions to get her out of a tough spot. I especially the female representation in engineering and science, as well as on the battlefield.
My disappointment with the novel comes from Kiaran, Aileana's fae mentor and punching buddy. He personifies mystery and intrigue, but his character never had the fulfilling payoff I wanted. He kept introducing mysteries without any answers, with Aileana eating happily out of his hand. Her status as an independent fighter was diminished by her reliance and blind faith in this character that we know so little about. It also made me less sympathetic to the romance in the novel.
On the topic of mystery, Aileana's powers as a Falconer (despite that role literally being the title) were inconclusive. Partially due to Kiaran's evasiveness and the novel's overall approach of mysterious suspense, I am not even sure what a Falconer is. At this point, the omission of information is not suspenseful, just confusing.
Despite the lack of depth with Ailean's powers, I loved the focus on Aileana's internal struggle between fulfilling her personal desires, her societal duties, and her responsibilities as a Falconer (even though those were left extremely vague). She had a lot on her plate; revenge for her mother's death, all while navigating (with various degrees of success) the proper social realm of the 19th century.
Even though I didn't particularly buy the romance, I will give it credit for the nice resolution to a love triangle. There was a brief, and very lopsided, love triangle that played well into her concerns about society. Being the love-triangle skeptic that I am, I was worried when the trope was introduced. However, the resolution was largely angst-free without overwhelming the plot.
As for the other unfulfilled promise, the steampunk aesthetic was not as prominent as I would have liked. Aileana's engineering capabilities were highlighted, but the setting was more reminiscent of historical fiction rather than an alternate universe of machinery and technology that steampunk offers. There was a clockwork tea kettle and her flying machine, but the steampunk vibe didn't spread outside of Aileana's own room.
---
I liked the combination of fae lore and steampunk, even if I wish the aesthetic was more emphasized throughout the setting. The romance left me with mixed feelings--the love triangle was not terrible but I was not convinced by Aileana's relationship at the end of the novel.
If you are a die-hard fae fan who thinks you have read every iteration of the lore, then The Falconer will challenge what you know about faeries. You might not understand it all, but the setting in Scotland provides a new face to the lore.
Are you tired of the faery trend yet? Does a romance have the potential to change how you see the main character? Are you a fellow skeptic of love triangles?