My Life


During the past couple of weeks, I have not really had a life to talk about. I have just been submerged with work, work, and more work. Even my weekends, which I promised myself would be dedicated to blogging, are filling up with leftover work that I was too tired (lazy) to do during the week. It is safe to say that my time management skills have not gotten any better, but I have gotten pretty good at staying up way past my bedtime to finish everything.
In the rare times when I do not have work, I have been trying to work equally on blog commenting/reading, post writing, and updating social media. I think that I have been doing a pretty decent job (at least in comparison to this time of last year). I promise that I am working my best to still be present in the blogging community despite my massive workload.
Books I Read
Unfortunately, I only got to read 4.5 books this month. But honestly, I am proud that I even finished that many while drowning in endless work.
The Way to Never by O. E. Borini
My Review
Dreams of Gods and Monsters by Laini Taylor
Review (incoherent raving) on its way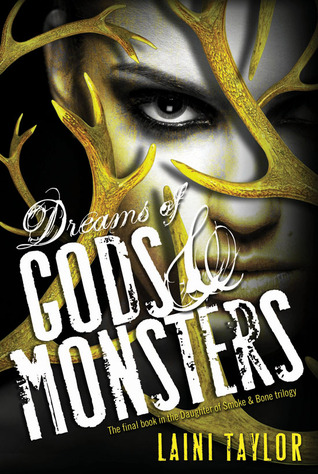 The Great Gatsby by F. Scott Fitzgerald
Classic Conversations on its way
Omega by Lizzy Ford
Blog Tour and Review coming soon
Best Book of the Month: Dreams of Gods and Monsters
I have been excited and scared for the time when this series would end, and I am extremely happy to say that it was everything that I could of hoped for. I will not steal the thunder of the upcoming review, but *spoiler alert* it was amazing!
Challenge Updates
Goodreads Challenge: I have read 55 out of my goal of 100 books. I cannot say that I am proud of that number, or that it is possible to make up over 40 books in 3 months. For me, that is just not possible. Right now, I am going to consider it a success if I get to 80 books.
2015 Book Blogger Discussion Post Challenge: I wrote one discussion post this month.
Quite frankly, I have lost count of how many I have posted this year already, but it is many more than my goal.
Popular on Crazy for YA
Popular Elsewhere
Jessica guest posted on Jessica's blog about respecting people regardless of age.
Roberta talks about the relationships between adults and teenagers who read YA.
Shannon obsesses over blog design.
Aimee shares some classics that are not boring.
Inge wrote a great post on treating yourself well.
-More Classic Conversations posts
-Hopefully more Book Battles (Have not read enough books to do one in a while)
-More reviews and awesomeness from Max
I would love to know how your month was? Have you been swamped with work too? What would you like to see on the blog next month? What are you most excited about for fall? What is your TBR for next month?