Welcome to the Sunday Street Team! This is my first post as a part of this amazing group and I am excited to say that it is not going to be my last!
Today, I am hosting a guest post from the wonderful Brianna Shrum. Her debut novel, Never, Never, will be released on September 22. H
er book caught my eye because it is a retelling of Peter Pan (which I have never read before) from the perspective of Captain Hook! As we all k
now, everyone has a story, even the villains.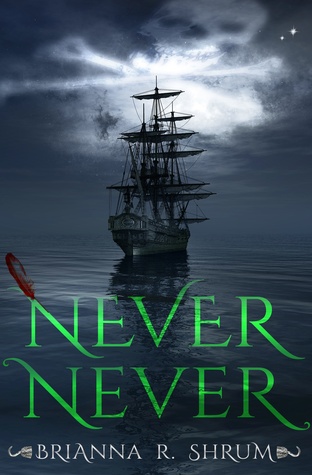 Never, Never
By Brianna R. Shrum
Release Date: September 22, 2015
Pages: 368
James Hook is a child who only wants to grow up.




When he meets Peter Pan, a boy who loves to pretend and is intent on never becoming a man, James decides he could try being a child—at least briefly. James joins Peter Pan on a holiday to Neverland, a place of adventure created by children's dreams, but Neverland is not for the faint of heart. Soon James finds himself longing for home, determined that he is destined to be a man. But Peter refuses to take him back, leaving James trapped in a world just beyond the one he loves. A world where children are to never grow up.




But grow up he does.




And thus begins the epic adventure of a Lost Boy and a Pirate.




This story isn't about Peter Pan; it's about the boy whose life he stole. It's about a man in a world that hates men. It's about the feared Captain James Hook and his passionate quest to kill the Pan, an impossible feat in a magical land where everyone loves Peter Pan.



Except one.
The Art of Writing Retellings
Retellings can be tricky beasts, and there were parts of this that were pretty tough for me. First off, I knew I wanted to tell the ACTUAL Pan story from Hook's point of view. And that meant reading the original very closely, and not leaving out any of the major events just because they were hard to spin.
It is difficult, I learned, to turn a villain into a protagonist when, well…he does a lot of villainous things in the original. Because…you know...he's the villain. But the thing I love SO MUCH about
Peter Pan
is that the more deeply you look into it, the clearer it becomes that Peter really isn't such a hero after all. Even in the original, he's selfish and arrogant and cruel. (There's a line in the original where Barrie says that sometimes, the Lost Boys would grow too many, or start to grow up, and then Peter would "thin them out." IT'S THE ORIGINAL HUNGER GAMES, PEOPLE. PETER IS JUST DISTRICT 1 OR 2. If there IS a hero in Barrie's story, it's Wendy. But it's for SURE not Peter. That's all I'm sayin'.)
And Hook has always been, even when he is wicked, elegant, refined, concerned greatly with good form and fairness. The other prominent character in Never Never is Tiger Lily, who in the original, is a bit more of a racist stereotype. But some of her key character traits beneath all that are her fierce independence, her self-sufficiency, wit, and wildness. So I took those key traits and ran with them. I *love* her.
So, really, the main strategy for me was to take what Barrie had already given us—the story, yes, but also the roots of those characters, and amplify them. Twist them around a bit so we could get another angle of the same story. Create a background that could propel Hook to be this obsessive, passionate man, and tell his story, which is inextricable from Pan's, and wind us up in the same spot that Barrie does—in Neverland, on a glorious ship, face-to-face with a wicked child.
Brianna Shrum lives in Colorado with her high-school-sweetheart turned husband and her two little boys. She's been writing since she could scrawl letters, and has worked with teens since she graduated out of teenager-hood, either in the writing classes she taught, or working with the youth group. Brianna digs all things YA, all things geeky, superhero-y, gamery, magical, and strange.
Her debut YA, Never Never, releases in September of this year. Her second YA, How to Make Out, releases in Fall 2016. She'd totally love to connect with you, so come say hi on her website or Twitter!
Visit her Website at briannashrum.com
Follow her on Twitter @briannashrum
I would like to thank Nori at
ReadWriteLove28
for organizing and hosting this event. Thanks for being so patient and helpful!
To celebrate Brianna and her debut, we are also hosting a giveaway! You can win a finished copy of Never, Never and experience the magic yourself!