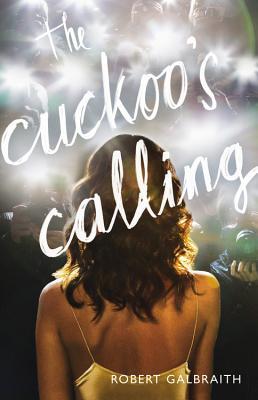 By Robert Galbraith (also known as J.K. Rowling)
Cormoran Strike #1
455 pages
Published on April 30, 2013
Review by Tessa
Cormoran Strike. Former soldier. Son of a rockstar. Amputee. Private Detective. Ex-fiance. Homeless man.




It is safe to say that Strike's past is as complicated as the case that has just been handed to him.





Supermodel Lula Landry jumped out of her apartment balcony months ago. The press went nuts in the aftermath. Why would such a beautiful, successful, and young girl suddenly decide to call it quits? The police did not know that, but they thought that they enough evidence to call her death a suicide and close the case.





When Landry's brother seeks Strike out to prove that his sister was pushed out of her balcony, the opportunity seems too good to be true. Strike's

office is on the edge of bankruptcy and h

is personal life is in ruins. Proving the murder of Landry could be the big break that he has been looking for to turn everything around. But it might also be impossible. The closed case was tossed aside by the police, the media, and ultimately, the public. Everyone has ruled her death as a suicide. But Strike is willing to prove them wrong.





His investigation brings him into the darkness of the famous and wealthy. He observes the lives of supermodels, fashion designers, and rock singers. Underneath the facade of money and fame, Strike finds something even more terrifying and dangerous.
It has been a long time since I have read a YA mystery novel, and even longer since I have read a proper adult mystery novel. And now I remember why.
I am very picky when it comes to mystery novels. For one, I need to be entertained. The whole plot cannot just be about the mystery. I want subplots, character development, and relationships.
I am also not the brightest when it comes to mystery novels. I actually need to be able to follow's the detective's train of thought and understand what is going one.
It also needs to be in perfect balance of unpredictable and predictable. (I know that I just listed two opposites, but bare with me.) I want my mind to be thrown around a little bit. I definitely do not want to just open to the first page and automatically be able to tell who the murderer is. But, I also want to have a chance at guessing who the killer is. I want to have clues that will make me wonder about things.
I want to try and figure out the mystery myself first because I am a stubborn and independent reader who thinks she knows best.
Now that you understand a little bit about my stances on mystery novels I want to explain why The Cuckoo's Calling just did not work for me.
1. It was as slow as a turtle who is trying to walk through molasses with another turtle on his back.
Yes, it was that slow. I frequently put the book down and forget about it for a while because it was so slow and there was nothing exciting or even relatively interesting was happening. Sometimes, Strike went off to interview people and do other investigator things that seemed to have nothing to do with the mystery. Also, a lot of the investigations seemed to produce the same, seemingly irrelevant, answers. The Cuckoo's Calling is a book that needs a patient reader, and I am definitely not one of those.
2. I still do not fully understand how the killer was found.
I understand who, but not WHY and HOW, which is arguably the most important parts of a mystery. I was fully surprised by who was the killer (and you will be too) but that surprise was accompanied by more confusion than awe. The claims were a little bit outlandish and overly complicated. I had a lot of trouble keeping up with the reasoning behind why and how the killer killed.
3. It was incredibly detailed at all of the wrong times.
The tiniest things were elaborated on to the point of annoyance. The descriptions were long and plenty, which probably contributed to the slow pace of the novel. There was also some out of place stream of consciousness like writing plopped into the mix sometimes, which threw me off a little bit.
4. Some things were left unresolved, mystery-wise and relationship-wise.
I realize that this is a series, but I think that more things should have been explained/wrapped-up/concluded, in this novel. I finished the book craving a couple of more pages to heal the confusion that was bubbling in my head.
Since I really dislike having completely negative reviews, and the fact that this book was not completely terrible, I am going to list the two things about the book that I actually really enjoyed.
1. British culture was flawlessly incorporated into the novel.
I have never read a book so fully immersed in British culture before. This might just be my American ignorance showing, but I never heard of a lot of the places and cultural aspects that were mentioned in the book. Sure, I have read other books set in England, but none of them blended the culture of the British into the story as gracefully as Galbraith did.
2. The cast of characters was diverse.
The cast of characters was firmly diverse, with the characters being multiracial, disabled, and from different cultures. The homeless and poor were represented well in this novel as well as the minorities who do not really get the spotlight that they deserve. Countless different perspectives were displayed in The Cuckoo's Calling, and I thoroughly enjoyed the chance to see the story from another point of view.
In the end, I would recommend this book to fans of hardcore mysteries and who do not mind if they cannot figure it out themselves. I would also recommend it if you are interested in a diverse mystery with the life stories and perspectives of many different people.
Unfortunately, I would not recommend this novel to people who are not necessarily fans of the mystery genre. There is a lot of patience required to get through the novel, which might not be easy for readers who are not used to mysteries to get into the story.

What are your thoughts on mystery novels? Do you like to figure out the mysteries on your own, or would you rather be completely surprised? Are you a patient reader? Do you have any recommendations for easier mystery novels?