By Ami Allen-Vath
Published on March 15,, 2016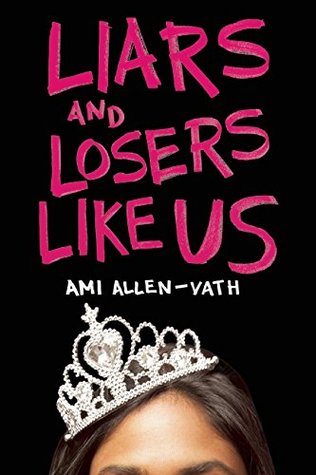 240 pages
Sky Pony Press
This book was provided to me from Edelweiss in exchange for an honest review. I swear on my bookshelf that this has not affected my opinion of the book.
Keep calm and make it to prom night—without a legit panic attack.



For seventeen-year-old Bree Hughes, it's easier said than done when gossip, grief, and the opportunity to fail at love are practically high-fiving her in the hallways of Belmont High.





When Bree's crush, Sean Mills, gives her his phone number, she can't even leave a voicemail without sounding like a freak. Then she's asked to be on Prom Court because Maisey Morgan, the school outcast nominated as a joke, declined. She apologizes to Maisey, but it's too late. After years of torment and an ugly secret shared with their class's cruel Pageant Queen, Maisey commits suicide. Bree is left with a lot of regret…and a revealing letter with a final request.





With Sean by her side, Bree navigates through her guilt, her parents' divorce, and all the Prom Court drama. But when a cheating-love-triangle secret hits the fan after a night of sex, drinks, and video games, she's left with new information about Sean and the class Pageant Queen. Bree must now speak up or stay silent. If she lets fear be her guide, she'll lose her first love, and head to prom to avenge the death of the school outcast—as a party of one.
---
Liars and Losers Like Us is not like other YA contemporaries about prom. There are dozens of fluffy prom books out there, and I love a lot of them, but Liars and Losers like Us takes the subject in a whole new direction.
While most books about prom idolize the prom court and make it seem as if prom night is the climax of everyone's life, Liars and Losers Like Us goes behind the surface of the high school experience and dives into the deeper problems. The plot focuses on the plight of Bree Hughes, the best friend to one of the popular girls in school who is not quite popular herself. But Bree does not care about that. She is content with her status on the social ladder at first, with her only qualm not having a date to prom. She is crushing hard on a boy who she wants to take to prom, but I will get to my thoughts on that later.
The book also focuses on Bree's home life with divorced parents. Instead of skimming over the details of living with divorced parents, Allen-Vath gives all of the not-so-pretty elements of dealing with a recently broken household. The household conflict was handled well in the novel, thanks to the fact that both Bree's mother and father had their roles in the story, unlike most parents in YA.
The depiction of suicide seemed random at first and rather at odds with the rest of the plot, but it was developed so that it fit perfectly with the rest of the story. The suicide was not randomly thrown into the plot, but I think the meaning is more impactful if you read it yourself.
My favorite part about this book, if you did not figure it out already, was how realistic it is. It destroys the traditional trope in YA fiction that prom is high school's equivalent of paradise and I loved it. For the first time, prom was approached realistically and in a way that I could relate to.
My one gripe with the book is the romance. I believe that it was a tad exaggerated and moved a little bit quickly. I really enjoyed the description of Bree's crush on Sean in the beginning, but I think things escalated too fast. This really disappointed me considering how realistic the rest of the book was. Everything felt so real until Bree and Sean sped through their relationship. I felt like a few major milestones were skipped in order to get to the "I love you" by the end of the book.
I also did not particularly enjoy the other romantic relationships in the novel. It seems like there was enough love geometry that only someone with a PhD in calculus could figure it out. Everyone seemed to somehow be involved with other people, which I also do not think is realistic. All of the romantic relationships were too convoluted for my taste.
Despite the overly rushed and complicated romantic situations in the novel, I enjoyed the message and realistic representation of high school life in Liars and Losers Like Us. Instead of making high school seem like a glamorous musical where only great things happen, Liars and Losers like Us showed the darker side of high school. More and more authors are taking up the crusade like Amie Allen-Vath to show the true natures and dangers, as well as the triumphs, of high school.
---
Ami Allen-Vath is a YA author living and writing along the shores of New Jersey. She loves great and terrible TV, ice cream, books, and vacations. Ami loathes cilantro, live birds, and when guys do cartoon impressions. Liars and Losers Like Us is her first novel.
---
a Rafflecopter giveaway
Thanks to Nori @ ReadWriteLove28 for organizing this Sunday Street Team tour!