The Hammer of Thor
By Rick Riordan
(Magnus Chase and the Gods of Asgard #2)
Published October 4, 2016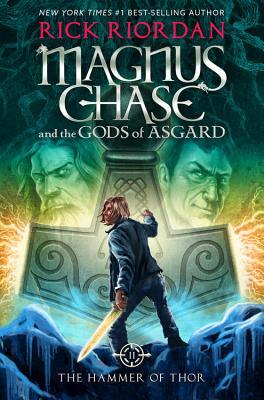 471 pages
Middle Grade, Mythology, Fantasy, Diverse
Thor's hammer is missing again. The thunder god has a disturbing habit of misplacing his weapon--the mightiest force in the Nine Worlds. But this time the hammer isn't just lost, it has fallen into enemy hands. If Magnus Chase and his friends can't retrieve the hammer quickly, the mortal worlds will be defenseless against an onslaught of giants. Ragnarok will begin. The Nine Worlds will burn. Unfortunately, the only person who can broker a deal for the hammer's return is the gods' worst enemy, Loki--and the price he wants is very high.
---
My childhood was full of books and long hours spent reading, but Rick Riordan's characters always stood out to me. Percy Jackson's wisecrack humor made me giggle as a preteen and I am so glad that Riordan has continued the tradition with his new characters and stories. I adored his stories for their humor and fantasy, but know I have come to appreciate his writing from a more important point of view--diversity.
As Riordan's world of mythology grows, so does his inclusion of diversity. He is setting the bar for an increase of diversity in middle-grade novels.
Arguably, middle-grade books need the most diversity right now. During middle school, kids are still starting to develop opinions of their own. They absorb everything that they read, watch, and listen to. So, if they read about diverse characters and how they fit in fictional worlds, it is more likely that they will accept diversity in real life. If we can implement diversity while readers are still young, they will come to expect it instead of being surprised by it.
In a time where diversity can get books banned from middle schools and high schools (Riordan's target audience), it takes a lot of guts and commitment to weave in different perspectives. Regardless of bans, complaints, and just pure ignorance, Riordan represents multiple ethnicities, religions, and sexualities in his writing. Better yet, he does it in a way that pre-teens and teenagers will understand.
For example, Riordan wrote the best example of a gender fluid character I have ever read. Alex, who uses the pronouns he/she, is an awesome, kick butt character who shows that being different is not a setback from being comfortable in your own skin, and garroting monsters while you are at it. There are very blunt and open discussions that I believe a lot of kids need to hear. There are no questioning or "are-you-sure?" moments; Alex is the open and unapologetic gender-fluid character that middle-grade books (and the book industry as a whole) needs.
Magnus's crew was just as hilarious and heartfelt as in the first novel. Magnus was awkward with the signature Percy-Jackson type sass. From bowling balls the size of a mountain to giant weddings, he always had a snarky comment up his sleeve. Magnus also showed that there is a learning curve to becoming a hero. Even though he is a hero of Norse gods, he still gets his head cut off every once in a while. But seriously, he is in no way a Mary Jane who annoyingly gets everything right the first time. In a sadistic, but loving, way, I like seeing him struggle and fail because it adds to his realistic character.
Sam also developed a lot throughout the novel. I learned more about what it is like to balance the errands of Norse gods, homework, and Muslim traditions. Her character was the much-needed voice of reason and comebacks to counter Magnus's constant sass. I loved seeing her relationship with Amir, her betrothed, and her family issues too. Plus, her iron will and "take-no-crap" attitude put her up in the ranks of favorite characters with Annabeth Chase.
There are no signs of second book slump in sight due to the rapid pace, character development, and pesky gods who cannot get their act together. I barely had time for a bathroom break while reading because I always need to see what Magnus was going to get himself into next.
Riordan is developing a world that will provide young readers with a diverse cast of characters to look up to while they grow up. I am glad that the next generation will get a head start on loving and expecting diverse characters.
With the incorporation of diverse and complex characters and the craziness of Norse mythology, there is no reason you should not pick up this book right now. (Unless you have not read the first book, which I highly suggest you do first).
Do you think that diversity is important to middle-grade booksk? What is your favorite diverse middle-grade novel? Are you a fan of Norse mythology? What books did you grow up with?