Tell Me Something Tuesday is a weekly feature hosted by Rainy Days Ramblings. The topics are diverse and span from books and authors to blogging and the meaning of life (at least in regards to literature). This is my first time participating in the discussion, but I am super excited to do more. If you want to share your thoughts on the prompt, feel free to make your own post too!
As a child, the only thing that could stop me from reading was running out of books. I would read anything and everything, as long as it was words on a page. Thankfully, the middle grade genre has a lot of long-running series with the number of books in a series reaching over 20! I used to read long-running series all of the time, like 39 Clues, The Magic Treehouse, even some of the Rainbow Magic fairy books.
In retrospect, many of the most popular MG books are a part of long-running (and seemingly endless) series. Unfortunately, that form of series is not common within the YA genre. Generally, YA books are longer and more complicated, so mass-producing them at the same rate as the long-running MG series is pretty much inconceivable. But then I get confused again because there are a lot of long-running adult series (especially mysteries) that also seem to be never-ending (@ James Patterson and Kathy Reichs).
For my purposes, I am going to define a "long-running series" as any series with more than four novels, including spin-offs and revivals. Even though four books may not seem long to some readers, it is harder than you would think to find long-running series in the YA genre. Most of the popular, and longest, series I have already started (like Throne of Glass by Sarah J. Maas, the Percy Jackson books, and Cassandra Clare's novels).
I would love to see more long-running YA series that extend past the standard trilogy. The trend is so popular with MG, adult, and even picture books, yet almost non-existent in YA.
With my mini-rant over, here a few long-running series that I would like to read.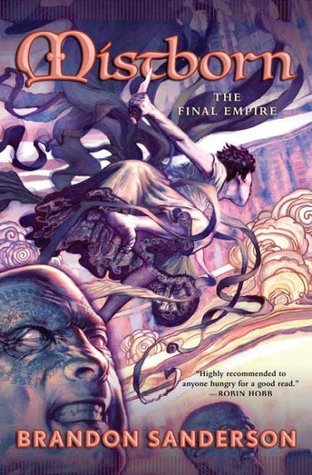 The Mistborn series
By Brandon Sanderson
The Count: 1 prequel, 1 companion novel, 7 novels
I have never read anything by Sanderson. I know, cue the gasps and huffs of exasperation. One of the main reasons is that the series is LONG and the books are HUGE.
On the other hand, I love when authors find a way to twist the traditional tropes of magic, especially elemental forms. In Mistborn, instead of the four elements being featured, their power comes from metal. There is the promise of a rebellion and a new perspective on magic different from anything I have ever read. Plus, I just need to read something from Mr. Sanderson.
Spirit Animals
By Brandon Mull (and various authors)
The Count: 1 prequel and 7 novels
Yes, I know that this is a middle grade series. And no, that does not change the fact that I want to read this series. I am a strong believer that you can read whatever you want, which includes a college student reading a series meant for pre-teens.
Also, if the epic cover was not enough to convince me, many of my favorite YA authors have contributed to the series. Maggie Stiefvater, Marie Lu, Garth Nix, and Shannon Hale have all written a book in the series. Like the dedicated fangirl that I am, I have to read all of their works, even if I am not a preteen anymore.
In further defense of reading middle grade as a teenager or an adult, I need quick reads these days. Not only is my Goodreads reading goal suffering, but also my hunger for books. I really need some quick and fast-paced books (which I tend to find in MG) to get me back on track.
Falling Kingdoms series
By Morgan Rhoades and Michelle Rowan
The Count: 6 books, one prequel, and one spinoff novel
This is one of the series that just seems ubiquitous in the book blogging community (albeit a couple of years ago). I have felt that it is a right of passage or some kind of unspoken required reading for those looking into longer fantasy series. The synopsis offers everything that makes up an epic high fantasy: brutal politics between kingdoms, bloodthirsty princes, MAGIC, and even a little bit of romance.
Do you know of any long-running YA series? Do you think YA needs longer series? What long-running MG series were you addicted to as a kid? Are there any long-running adult series I should give a chance?