Since it has now been about a month since I started blogging again, it is safe to say that this is not another two-week fling with my blog. The long winter break was exactly what I needed to get my life in order (both bookish and otherwise). I even wrote a post about how I got my mojo back, which shows how serious I am about staying motivated and involved in the community.
Like always, the book blogging community has been so amazing and understanding about my weird schedule. I just wanted to remind you guys (readers, bloggers, authors, fangirls, anyone who stumbled upon my little hub in the Internet) that I greatly appreciate your support and infinite supply of second chances. I promise that I'll make y'all proud.
---
1. Reviewing Backlist Books @ Aimee, Always
Aimee's blog is one of my favorite recent blog finds of this month. She covers a lot of different books in reviews. Plus, her discussion posts are always relevant and super insightful. I particularly like this discussion post because it sheds new light on the importance of backlist books. Even though I am a little biased since I mostly read backlist books, it is an important post to show how balancing your ARCs with some older books can do good for yourself and the entire community.
2. How much do we really discuss specific books? @ Metaphors and Moonlight
This discussion post blew my mind a little bit because I have never thought about book blogging this way. Kristen brings up the point that we don't really ever get to discuss a specific book in depth (like with spoilers and discussions) in or out of reviews. This may not exactly be a problem in the community, but I would love to figure out a way to discuss some of my favorite (and even not-so-favorite) books really in-depth somehow. Maybe social media will fill this hole, but I am open to any suggestions!
3. Book Recommendations for Aquarius @ She's Got Books on Her Mind
I really like Adriana's idea to do book recommendations based on zodiac signs!I am a religious reader of my horoscope, but I don't really put too much stock in my zodiac sign
. There are days when my horoscope seems to be completely right, but that is mostly due to their general nature that is specifically designed to fit a variety of situations. My cynicism aside,
I love Adriana's unique idea and I hope she continues it throughout the year.
For the sake of transparency, I should tell you that I am an Aquarius. I may be a little bit biased since this post is essentially all about me, but that is even more of a reason to read it!
4. On Author and Blogger Etiquette @ BookLoversBlog
At its heart, I know that the book blogging community is a great place. I love it will all of my being, yet we still make mistakes. And even though I love authors and greatly appreciate all of the wonderful words they put out into the world, they make mistakes too. However, there are avoidable mistakes that can very easily be fixed with knowledge and intention. JJ wrote a really good discussion on how to identify and fix some common mistakes in author/blogger relationships. Even if you have been blogging since the dinosaurs walked the earth (yes, T-rexs liked to read too), you should give it a read.
5. Library Memories @ A Writer's Faith
I just thought this post was super cute. Not going to lie, I was almost crying (good tears) as Katie's memories revived marvelous feelings of nostalgia. I have always loved libraries and my local library became a second home for me. Katie's post reminded me that even if I am not close to my childhood library anymore, the magic of books can be found wherever I am. I loved reading not only Katie's library memories, but also all of the wonderful comments.
6. Commenting on Other Blogs Challenges
Commenting 365 Challenge
In my efforts to stay more involved in the blogging community, I joined two commenting challenges this year to hold myself accountable. First, I entered my blog into the Commenting 365 Challenge hosted by Nori @ ReadWriteLove28. Honestly, Nori is such a book blogging boss that I would blindly follow her anywhere, and this challenge is just another example of how amazing she is! The whole challenge is to connect with new bloggers and initiate meaningful conversations in the community. It's not too late to add your blog the list or challenge yourself to comment on 365 blogs this year!
Bloggers' Comment Junction
In my quest to find challenges, I also stumbled across Elgee's commenting challenge on her blog, Elgee Writes. This one is a little smaller, but I have already found a few great blogs by interacting with the other bloggers and commenting back. The purpose of this challenge is to leave thoughtful comments on other blogs and comment back on those who respond to your own blog posts. In theory, it should initiate a chain of comments that starts meaningful conversations and relationships!
---
1. College
I mean this literally and sarcastically--I love college. There are things that I love (glorious independence, new experiences, awesome people) but there are also things that stress me out (scary independence, the impending doom of the future, and the unrelenting work of classes). Coming back from winter break was bittersweet. On one hand, I was getting a little bit tired of my family and the monotony of staying home in my small town everyday. At first, I was excited to be back in the city with actual structure to my days. On the other hand, I forgot how overwhelming classes can be and how much I can miss my family (mostly my dogs to be honest). Regardless of the pros and cons, I have to admit that the city has amazing sunsets.
2. Camila's new album
I was never a fan of Fifth Harmony. I just never liked any of their songs or connected to the band in any way. However, the opposite is true for Camila's new self-titled album. This album is literally all I have been listening to for the past month. I listen to it while studying, while working out, while reading, while blogging (like right now). I am not knowledgeable enough about music to describe why I like it besides the fact that her voice is amazing and the bass speaks to my soul. I highly recommend her new album, especially if you liked her single, Havana.
3. Podcasts
On the rare occasion that I am not listening to Camila's music, I am listening to a podcast. Besides the fact that listening to podcasts makes me feel smart and cultured, they can also be really entertaining. Not every podcast is about the dreary state of politics or the most recent catastrophe in the news (even though those podcasts are still important and I do enjoy myself some NPR from time to time). However, my favorite podcasts at the moment are Hey YA (a podcast by the amazing Eric Smith and Kelly Jensen that is COMPLETELY FOCUSED ON YA), Dear Hank and John (which is dubious advice from my favorite siblings, the Green brothers), and Welcome to Night Vale (I don't know how to describe this one, just listen to it and enjoy the confusion).
---
The Night Circus by Erin Morgenstern
I may have only read three books in January, but I am pretty sure that The Night Circus would have still been my favorite if I read 100. In the near future, there will be a post about The Night Circus so I don't want to give too much away. I guess naming it my favorite book of the month is a spoiler that I liked it, but that is all you are going to get for now! Stay tuned as I reveal the rest of my feelings about this amazing book in a revived original feature.
My Post that I Wish Got More Love
---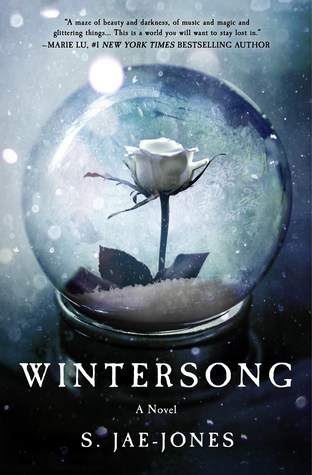 I know that reviews are losing traction in the book blogging community, but I still really enjoy reading and writing them. This is my first book I reviewed in 2018 and I have a lot to say about it. It's not exactly a rant, but it is safe to say that I was disappointed in the book. However, I find that the books that fall short of our expectations can open up some great discussions! For example, I went on a tangent about romance in fantasy novels (especially YA) and I would love to have more discussions about it.
Did anyone catch my Hamilton reference? What did you do in January? Did you read any good books? What about bad ones?Even though I am confident that I will stick to blogging this time, I do have some catching up to do. Link me some of your favorite posts from the last few months and I will check them out!