Author: Jenny Han
Series: Summer #2
Release Date: January 1, 2010
Pages: 288
One of the main reasons that I loved The Summer I Turned Pretty was the nostalgia and feelings it ignited. Those emotions were still present in this part of the series, but I really had a harder time connecting with Belly and her experiences.
I can only take so much summer drama and boy troubles before I feel like bashing my head in a wall. It's Not Summer Without You walked that line very closely.
A lot of the same issues from the first book, like the wishy-washy love triangle, continued into this book. The continuation is not the problem, the execution was. The same points were reiterated repeatedly and the same angst was apparent on every page.
I still adored the flashbacks. This time, they were more recent and built up the plot and tension beautifully. I love books that can keep me in suspense and wondering all throughout the book, and It's Not Summer Without You succeeded in that factor.
I did enjoy the dual perspectives. We actually got two sides of the story this time. This double insight, along with the detailed flashbacks, helped me truly understand, relate to, and ultimately love the characters in this book.
I really wished for more from this second book, but I ended up with more angst and drama than sweet summertime feelings and nostalgia.
Series:
The Witch Hunter #1
Release Date:
June 2, 2015
I love the cover, the synopsis, and the thought of a struggle between witches and witch hunters, but I only got through 40 pages before I decided to DNF this book.
It is a sad and rare day when I completely give up on a book, especially so early in the game.
I was enjoying the story for the first 15 pages. The world-building looked promising, the characters were alright but needed some work, and the foundations of the plot were being laid. I would have been happy to continue that story.
Then, the main character got insanely wasted. At the age of like 16. In the first 20 pages of a book. That rubbed me the wrong way and gave a terrible shadow to the main character.
But, then I encountered a characterization technique that I am not a fan of--using extreme, and most likely unnecessary, emotional and physical trauma to as characterization.
I am not going to consider this a spoiler, because it happened in the first 40 pages of the book, but it is quickly revealed that the main character has been forced to spend nights with the king. Then, she was accused of being a witch as a way to avoid delving further into that unsavory topic. It was just cast away like it did not matter. If you are going to use a technique like that, own up to it and directly address the awfulness. Not avoiding it with random plot twists.
I did not get past page 50 of this book. The issues in the book were brought up too abruptly and then dismissed too nonchalantly for me to continue the story.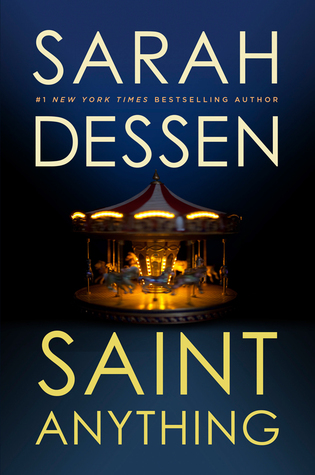 Saint Anything
Author: Sarah Dessen
Release Date: May 5, 2015
Pages: 417
I have had my ups and downs with Sarah Dessen. I loved all of her early books, like The Truth about Forever and Along for the Ride. But recently, I have not been in love with her books. I disliked The Moon and More, so I was hesitant to read Saint Anything. I am glad to report that this one is reminiscent of her earlier work and I really enjoyed it.
The characters were complex and completely bared to the reader. In contemporaries, I believe that the characters drive the book. Without good characters, no one will care about the plot. Fortunately, Dessen nailed her characters with this one.
One twist with this book was that the romance was not really the main act of this book. The relationships and their ensuing issues did not really come into play into the second half of the book. The true focuses of this book was family, friends, and forgiveness. All of Dessen's books have these elements, but none as strong as Saint Anything.
The family issues were also intense with this plot. I love how Dessen shed light onto the problems without casting them off or exaggerating. I felt every one of the blows that this family suffered, almost as if they were my own.
Nevertheless, the romance was still spot-on, like with all of Dessen's novels. It was slow-burning, born out of friendship, and deeply rooted in trust, loyalty, and understanding. I love deep relationships like this, especially because they are so hard to build up in the span of a mere 400 pages.
Saint Anything is by far the darkest, most complex, and most character-centered books that I have read by Sarah Dessen. It reminded me of her earlier works, which also happen to be my favorites of her work. Now I have another favorite to add to that list.