Hey everybody! Cassia here! Happy Memorial Day! And to all veterans who might be reading this: Thank you so much for your service from all of us here at Crazy For YA, and we are remembering you and all of those who died serving our country. Also, here's another review for you all.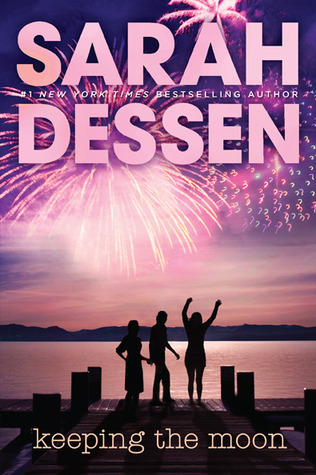 Keeping the Moon
by Sarah Dessen
When Colie goes to live with her aunt for the summer, she expects the worst summer
ever.
What she doesn't expect is to meet Morgan and Isabel. As Colie spends more time there, she starts to realize things about herself and what she can do. Can she overcome her fear of being judged?
Okay you all know I love Sarah Dessen. But, I just didn't like this book as much. I don't know if it was because it was hard to get through or what, but it wasn't the best of her books. It was well written, yes, but even though Colie's history was interesting, she herself was not. The plot was a little slow, and it seemed...I don't want to say this...stereotypical. Stereotypical books aren't bad, but you need something to make it its own. This book just didn't do that.
Now for the characters. None of them really jumped out at me as great characters. Not that the main characters didn't have good qualities, they just weren't that...interesting. Colie, the protagonist, is likeable, but I mostly felt sorry for her. She was bullied all her life and had it all kept up inside her and never told anybody, not even her mom. In the book, her mom isn't really in the picture. She goes off to tour Europe and leaves Colie behind, but it turns out to be a good thing. I think my favorite character was Isabel. I liked her, but again, she wasn't extremely interesting. I liked Morgan, too, and I also felt sorry for her. Norman...yeah I like him. If there was a guy like him in reality, I would possibly have a crush on him. Not in the book, though. Well, okay, a little bit. :)
Now, don't get me wrong, I love Dessen's writing style. This book was very well written, as all of her books are. I liked it and it was good, but it just wasn't a book that stood out to me.
Dessen shows that even people who live in their past and hurt from it can turn their life around through a world of friendship and music.
Cassia