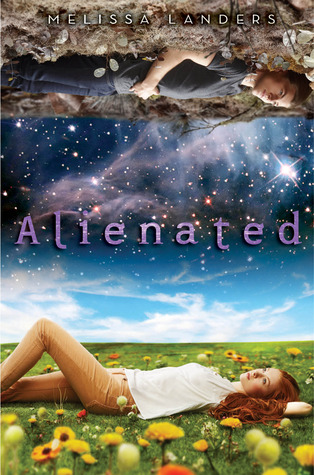 Alienated
Author
: Melissa Landers
Series
: Alienated #1
Release Date
: February 4, 2014
Pages
: 344
Review by
:
Max
Cara Sweeney is more than a little surprised when she hears the biggest news of her life, the kind of news that will give her a free ride to the college she's always dreamed of, the kind of news that could launch her journalism career.
The news? That's she's been chosen out of all of the US's valedictorians to host the first participant in the L'eihr exchange student program. It seems a little crazy hosting an exchange student would be this big of a deal, doesn't it? Not when the exchange student is an alien from outer space.
Alienated
was a cutesy book full of humor, interesting aliens, and romance. I really enjoyed it as a whole, and was surprised at the funny bits of the book along with the parts that had a little bit of depth.
Cara, the main character, was really relatable to me. Throughout the course of the book, it was extremely easy for me to feel sympathetic towards her and wish that everything would work out for her. She was the kind of character who stood up for what she believed in and wasn't the kind of protagonist whose decisions made me wince.
Hearing about the alien world was a cool part of the book and I actually didn't mind the split perspective as much as I usually do because it meant I could hear more about the planet of L'eihr. Also, I usually have some trouble with third person perspective but I think it was executed nicely and I didn't mind it, really.
Aelyx (pronounced in my head as Alex, I don't care if it's wrong) was an interesting character whose actions I didn't always agree with. I like how his character progressed regarding the situation he and his alien friends were in regarding their...
plans
, but I thought he kind of accepted things about our planet really easily. Plus, for someone who was supposed to be super smart, he didn't really seem like it. I did mostly like him as a character, though.
I wasn't a big fan of the subplot involving Cara's friend and ex-boyfriend, and I didn't really like either of those characters in general. I had hoped throughout the course of the book Cara would gain some actual real friends.
Overall, while there may be a few flaws, including that cover, Alienated was a nice read based on a really unique idea.