This Song Will Save Your Life
Author: Leila Sales
Release Date: September 17, 2013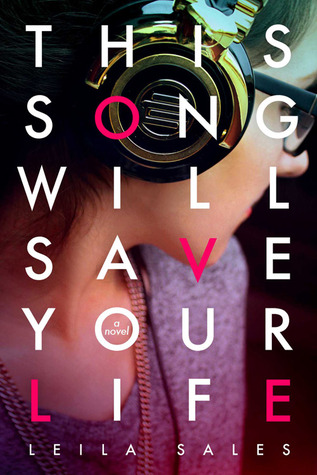 Pages: 288
Review by:
Tessa
Elise is naturally precocious. She loves to challenge herself with massive projects and she succeeded with almost all of them. But, she failed at the most important project of them all.




Elise was going to make herself popular. With a whole summer ahead of her, endless ambition and a burning desire to be anyone but herself, she launched into this project with more zeal and determination than any other. But all of her preparation was for nothing. Apparently, it is not so easy to change yourself, especially if you are loser destined to be perpetually tormented, teased, and taunted by everyone you meet.




This loser was sick and tired of being a loser and would go to extreme measures to ensure that she would not have to endure another day being the most hated person in the world.




Through those extreme measures, Elise finds herself outside an indie warehouse party. The music is great, the boys are cute, and no one knows her as loser Elise. Without the pressure of being herself, Elise might just find everything she was looking for.
I went into this book thinking it would be an upbeat novel about partying and good music. While there was plenty of both, this story went so much deeper than I ever imagined.
The first 50 pages were a roller-coaster that I did not anticipate. The story quickly plunged into issues that I did not think were going to be part of the story. I was caught by surprise, and I loved it.
As far-fetched as the summary may sound (I mean stumbling on a random underground music club is not exactly probable) the story felt real. Life was not glamorized in the story. The raw truth was thrown at you without the usual sugarcoating that seems to be sprinkled on everything. Elise and her struggles were understandable, heart-breaking, and if I say so, hit really close to home for me.
This Song Will Save Your Life advertises itself as a music book, and it certainly delivers. I have learned about so many new bands just from reading this book and I intend to look them up. I was also thrilled by the playlist included at the end of the book. I am still working through all of the songs, but the feel of the playlist reflects the book perfectly.
What this book does not advertise is the other main focus of the book--the struggles to learning to love yourself. I will warn you, the book does get pretty dark at some points. But these parts emphasized the whole meaning of the book--love yourself for who you are, not who everyone else wants you to be.
This book shares the secrets on how to love yourself t
hrough the power of a sarcastic yet lovable main character who goes through the struggles of life with only the friend of music to guide her.
And just when you think that the book has reached its peak of awesomeness, a couple of completely amazing friendships are thrown into the mix. Even though they do not start off looking like it, these tender relationships have dubious starts, but blossom into something worth working for. The family dynamics are also pretty great and detailed. It was good to see that the main character actually has a family for a change, no matter how dysfunctional it is.
On the other hand, the romance in this book is iffy. Elise is obviously distressed and I know all about those cliches where the naive, younger girl falls for the experienced and talented older boy. I really did not have to see it again in this book. The beginning of their relationship was all kinds of cliche and overdone, but it was the ending that surprised me. It was a bit risky on Sales' part, but completely worth it to the reader. The romance was not exactly my cup of tea, but I loved how the relationship ended up.
I would recommend this amazing book to anyone who is currently struggling with who they are. Or to anyone who has ever felt alone, worthless, or just plain invisible. This book will prove you wrong in ways you will never anticipate.
I would also recommend it to music lovers. Songs and musicians are a huge part of this story and it is amazing to see it put into the spotlight.